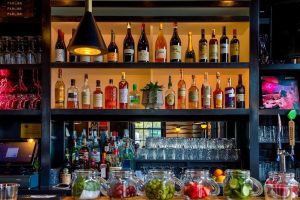 We are thrilled to have another business new to Darien join the Chamber!  Please welcome our newest member, PARLOR!   They are not-your-ordinary pizza parlor!
They are located at 1020 Post Road, behind Williams & Company, next to Ten Twenty, with ample outdoor dining space!  The full bar set up at the restaurant transforms the casual family pizza dinner atmosphere into a fancy dining affair!  While the kids are happy with the delicious pizza, the adults can enjoy their happy hour cocktails.
Take out is definitely a popular option with PARLOR.  Here again, a touch of originality provided by PARLOR with their unique pizza box.  The kids, adults and pets will get endless entertainment out of the tux box!   Not to mention, the "tux" serves as a bib for you messy eaters as well!  Let's see who looks best in the PARLOR tux!
Bring PARLOR to your next event! Book them for your next party, and A PARLOR truck will show up and serve you and your guest with their staple pizzas and salads!  It's a sure winner.
We have a message from owner Tim Labant that we'd like to share with you all!
I've been obsessed with Neapolitan style pies for years since eating at many of the famous NY/ New Haven spots like Robertas, Frannys, Motorino, and Paulie Gees. Why the hell was it so good, and why after I eat it, do I actually feel good? I've never had gluten issues but after 2-3 slices from a regular pizza spot, I feel like I've eaten a boat anchor. I really knew nothing about pizza so I figured there was just some magic ingredient.
It turns out that when it comes to exceptional pizza, everything matters, from the protein content in the flour, to the temperature of each ingredient you add, to the dough and, perhaps most importantly, the fermentation process (the reason it's so easy on the stomach, which BTW may have nothing to do with gluten).
We cook to the season and love sharing the dishes that keep us strong and healthy.  I look forward to continuing my obsession and feeding all my family and friends, old and new!
Sincerely,
Tim LaBant
PARLOR has another location in Wilton which is their original restaurant.  Be sure to check them out the next time you are in the Wilton area!
PARLOR is also a participant in the Darien Town-Wide Gift Certificate Program.  The certificate can be redeemed at the Darien Location.

CONTACT INFORMATION
PARLOR
(475) 328-9991