February 2022 Chamber Newsletter

FEBRUARY 2022 CHAMBER NEWSLETTER
Chamber Member's Business After Hours networking event
February 23rd, 5:30-7pm
Join us at the beautiful design showroom of Deane, Inc. Cocktails and a cooking demonstration with samples by Julia Deane of Culinary Works will be provided. Registration required. Member's only. FREE! Click here to register.
1267 East Main Street, Stamford (just past the Darien/Stamford border on Post Road).
March 10th, 4-8pm
A Little Something White, 987 Post Road Darien, is hosting an open house to welcome Darien residents and businesses to their new space.
All are welcome!!
CertaPro Painters is the most referred painter in the Southern CT area for residential exterior painting and staining, interior painting, kitchen cabinet refurbishing, deck staining, and garage floor makeovers, as well as commercial painting for all types of businesses and light industrial spaces.  Our mission is to provide extraordinary home improvement experiences one project at a time.  We also provide free color consulting, as well as interest free financing options.  Find out what makes us different.
Residential Services and Commercial Projects
- Interior Painting
- Exterior Painting
- Carpentry and Drywall
- Cabinet Painting and Refinishing
- Citadel Garage Floor System
- Deck Painting and Staining
- Faux Painting and Decorative Services
- Color Consultations
- Stucco Repair and Painting
- Vinyl and Aluminum Siding Painting
- High Durability Coatings
- Wallpaper Removal and Installation
- Power Washing
- Holiday Light Installations
Covid-19 Safety Guidelines Certificate.
At CertaPro Painters of Westchester, NY and Southern CT, the health and safety of our customers and employees is our highest priority. Several of our team members recently engaged in online Covid-19 safety training, sponsored by the International Association of Certified Home Inspectors. InterNACHI Certificate. https://certapro.com/coronavirus-update/
We support the Leukemia and Lymphoma Society. We donate a portion of all our sales to LLS: Please join us in supporting The Leukemia & Lymphoma Society (LLS).
Archie Group, a Top 25 Financial Public Relations Firm, has leased its first office located at 19 Old Kings Hwy South in Darien.
Archie Group is leading a transformative approach to work with its Way Of Work philosophy that appeals to a spectrum of professionals including recent college graduates, women returning to the workforce, portfolio managers, older workers and career transitioners. The company enables hybrid work, flex time, and asynchronous schedules based on value created, not hours worked. Archie Group is currently hiring for several positions and welcomes new members to apply. Jobs can be viewed at https://archiegroup.com/join-our-team.
Since launching Archie Group in 2016, founder and Darien resident Gregory N Papajohn has sought to align work with how and where workers live. The new physical office combined with a virtual and hybrid environment allows for a multi-platform approach to the business and fulfills heightened demand for worker-led employment following the Great Resignation. Archie Group employs nearly 30 consulting and full-time members with one-third residing in Fairfield County.
Gregory is a reputation-capital operating partner and public relations advisor to financial services and fintech founders, CEOs, management teams, and venture capital and private equity investors. He has held leadership positions at global public relations and marketing agencies in New York City including as Managing Director at Cognito and as the New York Corporate Practice leader for Golin. He also worked in-house at American Express and Mastercard.
In the last 90 days alone, Archie's clients have been named to lists such as Forbes 50 over 50; Business Insider's Most Transformative LegalTech Deals of 2021; Fast Company's Brands That Matter, LendIt Fintech's Excellence in Financial Inclusion and more. Clients regularly feature in The Wall Street Journal, TechCrunch and the other top financial and tech media.
Archie Group grew 2X last year. Gregory has worked with dozens of notable growth-stage and mid-market fintechs and investors—Adyen, Bain Capital Ventures, Edison Partners, GoHenry, Marqeta, and MoneyLion, among others—to build and manage their reputations through market positioning, customer and partner acquisition, and other milestone events such as capital raising.
Archie Group also runs an Exceptionals program, giving start-up entrepreneurs and social impact nonprofits access to its public relations and reputation management platform. For example, Disability:IN, the global organization driving disability inclusion and equality in business, and Daylight, the first digital bank for the LGBTQ+ community.
For more information please visit http://archiegroup.com.
Hernan Prada Hair is an eco-friendly salon with a philosophy based upon a low maintenance healthy hair concept and sustainable beauty. They would love to collaborate with other eco-friendly businesses and/or creative individuals to host special events in their space allowing those to network with a common goal: the hope to come together with people who share their vision and passion for eco-friendly sustainable living. hernanprada.com. You may also contact them via email
email@hernanprada.com
The greatest threat to our planet is the belief that someone else will save it. - Robert Swan 
DCA Academic Lecture Series: "THE ARCTIC – FROM DEEP FREEZE TO HOT SPOT" at the DCAFebruary 3 @ 7:30 pm - 8:30 pm
Helen Ainson Indoor Sidewalk Sale begins Jan 28, 50-70% off!!
Book Talk: Barrett Bookstore and the DCA Present Erik Larson
Barrett Bookstore and the Darien Community Association are thrilled to announce a live, in-person event on Tuesday, February 15, at 7:00pm at the DCA with author Erik Larson, to celebrate the paperback release of his #1 New York Times bestseller The Splendid and the Vile.
Love is in the Air ... especially at The Waters Edge at Giovanni's. Valentine's Dinner Menu Available. A complimentary glass of champagne will be served with every meal. February 11 - 14th, 4:30-9:00pm. Make your reservations today!
Salt Cave of Darien: Channeling the Divine Through Meditation and Reiki
February 22 @ 6:30 pm - 7:45 pm
Honey 4 Your Honey
This Valentine's Day
, show your honey that you were meant to bee!  Share your love and give your honey a gift that gives back to your community with P2P's Honey 4 Your Honey. Sweeten your sweetie with limited-edition 100% raw, unfiltered local honey produced by an apiary right here in Darien, CT!
A Honey 4 Your Honey gift bundle includes a 1lb jar of honey and a special Valentine's Day Card from you with a message that a donation has been made to Chamber member, Person to Person in your honey's honor. Honey gift bundles will be hand-delivered on Monday, February 14th (within Darien, CT) or they can be picked up at P2P Darien on Valentine's Day from 9 am – 11 am. Not local? Purchase a gift in your honey's honor! Your sweetie will receive a digital Valentine's Day card from P2P with a message that a donation has been made to Person to Person in their honor. Our honey has been generously donated by a local beekeeper from Darien's Corbin Farm apiary, and 100% of all Honey 4 Your Honey sale proceeds will support Person to Person. Click here!
Chamber member, Barrett Bookstore is thrilled to introduce Community Collaboration, a series featuring local community members doing super cool things. Every month or two, the current collaborator, in partnership with Barrett, will introduce a hand-selected, curated capsule of what they are reading and loving. Not only will you have access to a brand new shelf of books for perusing and purchasing, you'll also learn about your neighbors and how they make our world more interesting.
Chamber member, The Darien Foundation (whose mission is to fund technology and capital initiatives that create opportunity for our town's youth, support our town's safety and security and enhance the overall quality of life in Darien) awards At Home In Darien, also a Chamber member, an $82.8K grant to purchase a handicap-accessible vehicle for seniors and disabled residents. The new "Supervan" will allow disabled residents and wheelchair users of all ages to ride with safety, comfort, and dignity! For more information about The Darien Foundation, visit darienfoundation.org At Home In Darien is a non-profit 501 (c) 3 organization whose mission is to help older adults in Darien to live independently, comfortably and with dignity in their own homes for as long as possible. For more information about At Home In Darien, call 203.655.2227 or visit: www.athomeindarien.org.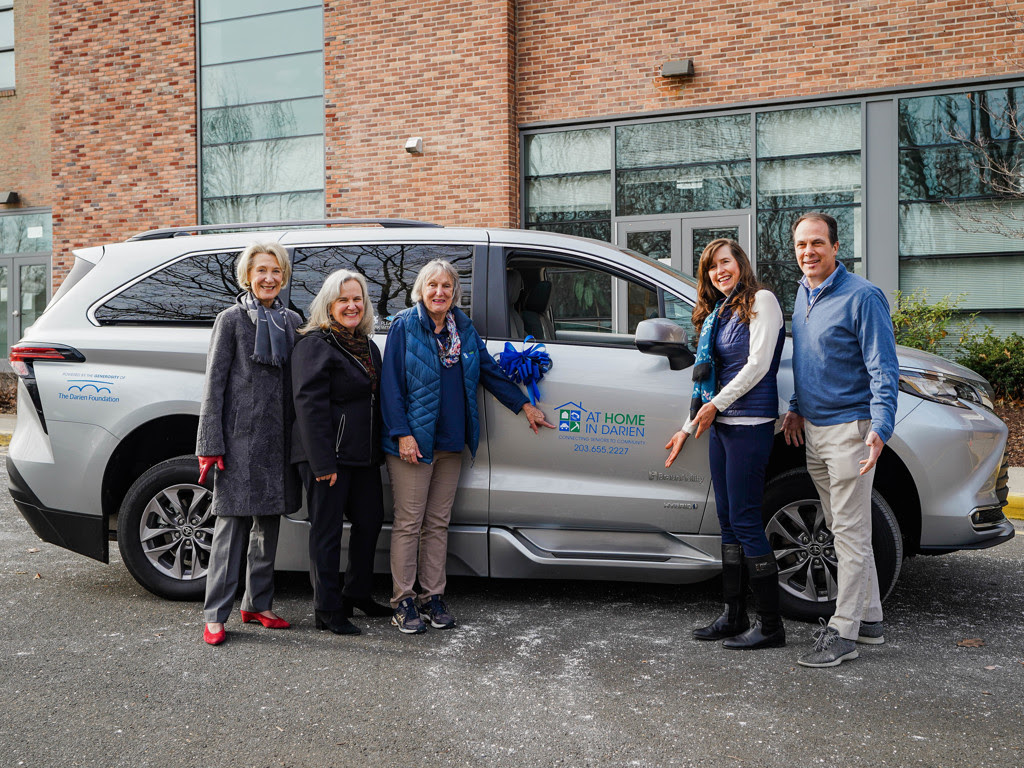 Left to right: AHID Board Chair Susan Bhirud, AHID van driver Jane Matthews, AHID Executive Director Gina Blum, The Darien Foundation Executive Director Sarah Woodberry, The Darien Foundation Board Chair Ward Glassmeyer Photo Credit: Calderwood Photography
DCA Valentine's Day Take-Home Tea with Carolyn's Absolutely Fabulous Events
Pick up date: Friday, February 11th, Pick up time: 11:00 am to 1:00 pm. DCA members $40, Public $50 Take home a perfect gift bag, complete with a hand-made tag. A real delight for all – treat yourself, share with your family or bring as a gift to friends. Each gift bag will hold an afternoon tea box, signature cocktail mix, sparkling water and a small posy of flowers. (The cocktail mix would also work with sparkling wine, not included.) The afternoon tea box (perfect for one person) will contain a savory bite, tea sandwiches, scones with jam and clotted cream, and a selection of cakes pastries and sweet treats. Orders will be available for drive-by pick up only in the DCA main parking lot from 11:00 am to 1:00 pm. If you have any questions or need to make other arrangements, please call the DCA office at 203-655-9050 ext. 10.
Register online at dariendca.org by noon on Wednesday, February 9 or contact the DCA at 203-655-9050 ext. 10.
Mental Health TEDx Speaker Emily Torchiana will be presenting on Mental Health Thursday, February 10th at Middlesex Middle School Auditorium and will be hosting workshops at The Depot Youth Center on Sunday, February 13th. Click here to register!
Come to Post 53 on February 12 from 12-3 to learn essential life saving skills at our
Save a Heart You Love event. CPR instruction, AED training, choking rescue, and bleeding control.
The Darien High School Music Honor Society is pleased to present a FREE concert by the acapella BACKTRACK VOCALS at DHS on March 3rd, 2022 at 7 PM. All members of the community are invited to attend. Backtrack Vocals is a 5-person multi-genre Cappella group based in New York City.