Chamber News & Community Events for November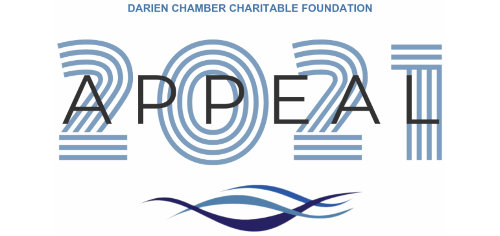 We hope you received our annual appeal mailing recently. We are thrilled to launch our first appeal to support the Chamber's Charitable Foundation. The work of the Chamber is mainly financed by the investments of its members. The Darien Chamber Charitable Foundation is funded by our community.
The DCCF is the Chamber's fundraising arm, a separate 501(c)3 set up to support and facilitate programs that enrich the quality of life in Darien and help us best serve our community.
Our two main initiatives we raise funds for every year include:
The College Scholarship Program, six scholarships are awarded to four deserving DHS seniors and two high school graduates of Chamber Members, annually.
The Holiday Lights Program, decorates Darien's lamp posts during the holiday season... a beautification effort bestowed upon our community and provided by the Chamber for over 15 years.
#Darientogether is Back!
This beloved shop local Instagram initiative between The Corbin District and The Darien Chamber will again this year enable us to support our community businesses and at the same time encourage residents to shop locally. For a chance to win a $250 gift card, all you need to do is snap a photo - a selfie in a local shop or a picture of the store where you made a purchase - then post it on Instagram and tag the store, @thecorbindistrict, @darienctchamber & #darientogether. We will choose 6 winners a week and on December 24th all participants will be eligible for a chance to win one night at The William Vale Hotel, Brooklyn, NY, one night at the Marram in Montauk, or one night at The Taconic Hotel in Manchester, VT.
WINNERS MUST FOLLOW US TO PARTICIPATE. Click below to follow:
Filling in the Blanks, Shine A Light On Hunger
October 25 - November 17
St Thomas More Annual Wine Tasting Fundraiser
October 20 - November 5
The Waters Edge at Giovanni's – THANKSGIVING TO GO – PICK UP – HEAT UP – EAT UP
October 28 @ 12:00 am - November 19
November is National Botox Month with Dr. Christine Hamilton-Hall
November 1 @ 12:00 pm - November 30, 5:00 pm
Learn to Play American Mah Jongg – a Class for Beginners at the DCA
November 2
Roots and Wings: Launching Career Workshop for Early Professionals
November 2 @ 5:00 pm - 7:00 pm
Dr. Traci Baxley: Social Justice Parenting with Barrett Bookstore, the Council of Darien School Parents, Darien Library, Ragetime CT and the YWCA of Darien and Norwalk
November 3 @ 7:00 pm - 8:00 pm
HAYVN Coworking: Parent Awareness: Executive Functioning: How to Go From Striving to Thriving
November 3
Everwell's Moms Night Out w/ Allergy Mom M.D., Julie Sweeney
November 4 @ 7:00 pm - 8:30 pm
Barrett Bookstore is THRILLED, along with our friends at The Corbin District to welcome, An Evening with Chef Missy Robbins
November 4 @ 7:00 pm - 8:30 pm
Unveil the Trail & Celebrate Darien's 200th Birthday
November 5th starting at 9am, See below for details.
Everwell's Mom Club for Tween Moms w/ Jacqueline Telgheder
November 9 @ 1:00 pm - 2:00 pm
Salt Cave of Darien: An Evening of Spirit Communication: Connecting with Loved Ones on the Other Side with Theresa Galuszka
November 9
Everwell's Money Series for Entrepreneurs w/ Kelsey Banfield–Part 3: Tested by Money
November 12 @ 9:30 am - 10:45 am
Charlotte Meyer Designs Trunk Show at Helen Ainson
November 15 - December 24
TYTF presentation: "The Pressured Child" with Michael G. Thompson, PhD
November 18 @ 7:00 pm - 8:00 pm
Everwell's Intentional Giving
November 18 @ 11:30 am
Our publication is a community-focused magazine that aims to connect the residents to the people, places and things that make our town special. We are inspired by the unique atmosphere our town has, and we highlight the most positive aspects of living here. From locally owned businesses to inspirational residents, Darien Lifestyle will be your guide. So whether you're a native or new to the area, our publication can become your community hub. Check out our most recent issues of Greenwich Lifestyle here and contact us directly at greenwich@lifestylepubs.com to reach out for marketing partnerships and editorial consideration in our premiere issue coming to Darien in early 2022!
The Glenn G. Geiger Company, Inc.
Founded in 1953 and headquartered in Darien since 1992, The Geiger Company is the longest tenured firm in the country specializing in the design and administration of Executive Benefits for Corporations, Community Banks and Credit Unions. Our mission is to deliver creative Investment & Benefit Plan strategies that meet the highest standards of safety and cost-effectiveness.
First County Advisors the Wealth Management division of First County Bank, continues its expansion with the hiring of Michael Rispoli, as Vice President Relationship Manager.
Rispoli, who joins the First County Advisors team from People's United Advisors, has 30 years of Wealth Management experience, serving clients throughout lower Fairfield County. Rispoli will focus on new client acquisition and relationship development. He will take a holistic approach with clients on investment decisions that will serve them and their families for generations to come. Rispoli's position will report directly to Charles B. Carroll Jr., the Head of Wealth Strategy, for First County Advisors.
The Darien YMCA is Hiring!
The Y is looking for an Assistant Swim Coach, After School Instructor and Assistant Gymnastics Class/Pre-School Instructor.
Please visit the Chamber's job listings link for all the available jobs in our area. Let us help you find a job or an employee today!!