Events for April 1, 2021
Events Search and Views Navigation
All Day
YWCA seeking to honor women leaders in the areas of racial equity, social justice who have worked to strengthen our community this year. Nominations can be submitted online at www.ywcadn.org. The deadline to submit is Wednesday, April 21, 2021. For more information email aidan.welsh@ywcadn.org.
Find out more »
10:00 am
"Self-love is an essential nutrient in our lives." -Megan Logan, MSW, LCSW A woman's relationship with her self—and particularly with her body—is complex and often painful. We expend an unfathomable amount of time on hurtful emotions as we scrutinize and reflect on ourselves + bodies. Our inner self talk can be mean and damaging to ...
Find out more »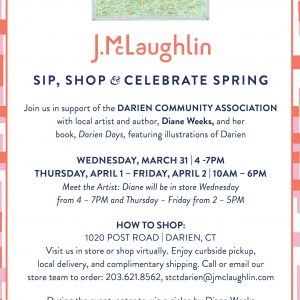 Join us in support of the Darien Community Association with local artist and author, Diane Weeks, and her book, Darien Days, featuring illustrations of Darien. During the event, enter to win a giclee by Diane Weeks of the DCA or a J.McLaughlin wicker handbag. Join us at J.McLaughlin in Darien to support the Darien ...
Find out more »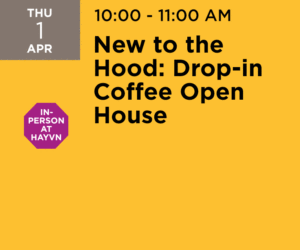 Are you a Working Mom or Entrepreneur New to Fairfield County? Welcome! Do you like to connect with others, be part of a supportive community and continuously learn? Do you need a modern, safe workspace, filled with light, inspiration and great connectivity? If the answer is YES to any of these, come to HAYVN Coworking's ...
Find out more »
12:00 pm
Everyone's got a To-Do list. But do you have a To-Don't List? A To-Don't List is a powerful way to get clear on all the ways you're wasting precious time & energy. Items on your To-Don't list can really trip you up when you're trying to move forward – they can even keep you from ...
Find out more »
+ Export Events